Our team has extensive experience in laser etching, and we can use it to customize just about any item you want.
While many people have heard of laser etching, not everyone knows this technique can be applied to fabric as well as to materials like wood, stone, and glass. In fact, laser etching can be used on a variety of fabrics, creating different effects depending on the composition of the fibers—for example, when used on polyester, the laser melts the surface of the fabric, creating a subtle change in color. In contrast, when used on natural fibers such as cotton, the laser removes the dye, leaving behind a design in the original color of the fibers.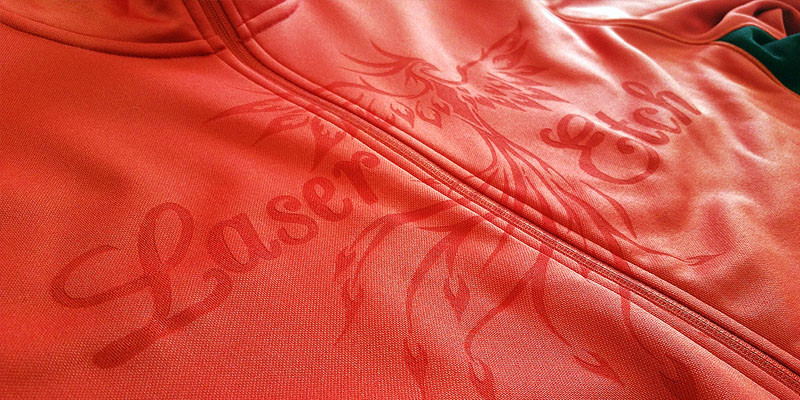 If you are interested in using laser etching to create custom designs, you can turn to our team at Artwear Inc. to get the help you need. We have extensive experience in graphic design and clothing customization, and we are excited to introduce more people to this technique.
In addition to polyester and cotton, laser etching can also be used to great effect on leather, vinyl, polar fleece, poly blends, and medium-color poly/performance wear. However, we do not recommend laser etching for any fabric with special finishes, such as water-repellant coatings, or for very light or dark fabrics.
If you aren't sure whether laser etching will take well on a given item, you can have us do a test sample for a modest fee. Our team works with all sizes of clothing for men, women, and children, and we are happy to customize a variety of other items as well.
We are proud to serve the community here in Winston-Salem, North Carolina, and we want to help you bring your creative vision to life. If you are interested in using our laser etching techniques, we encourage you to give our team a call to learn more about how to get started.
---
At Artwear Inc., we offer laser etching services for customers throughout North Carolina, including Winston-Salem, Greensboro, Kernersville, Fayetteville, Cary, Wilmington, High Point, Concord, Charlotte, Raleigh, Durham, and Greenville, as well as Charleston and Greer, South Carolina and Richmond, Virginia.