If you want to commission custom motorcycle patches, our team has you covered.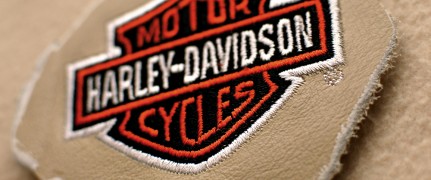 One of the many services we offer here at Artwear Inc. is custom patch design. We can help you design your own unique patch to promote an event, signify group membership, etc., and we can also produce that patch for you and ensure that it looks great. In our experience, one group that loves their patches more than just about anyone else is bikers, so we are happy to help you design top-notch motorcycle patches to wear on your jacket.
While there's already a thriving market for motorcycle patches, there's nothing like wearing a custom patch that you designed to represent yourself and your fellow bikers. Our team has been working in the custom embroidery business since 1993, and we have the right software and equipment to help you create the slick design you are looking for and ensure the design is executed perfectly.
Whether you already have a clear idea of what you want or you want to workshop the design a bit, you can count on our team to help you finalize the design and make it look its best. From there, we will get to work on embroidering your motorcycle patches so that you can add them to your collection as soon as possible.
Our team is proud to be a part of the Kernersville, North Carolina community, and we especially enjoy the local motorcycle scene. We have worked with many motorcycle clubs over the years to design great patches for their group members. If you are interested in designing custom motorcycle patches for your group, just give us a call to get started.
---
At Artwear Inc., we offer motorcycle patches for customers throughout North Carolina, including Winston-Salem, Greensboro, Kernersville, Fayetteville, Cary, Wilmington, High Point, Concord, Charlotte, Raleigh, Durham, and Greenville, as well as Charleston and Greer, South Carolina and Richmond, Virginia.