Let our graphic designers make your custom embroidery or printed apparel something special.
When it comes to creating custom products for your personal use or your company's brand, it's always helpful to have a skilled graphic designer on your side. Even if you consider yourself a fairly good artist, your ideas will be improved when you can benefit from a graphic designer's training as well. Whether you have a clear vision for a design or you're drawing a blank when you're trying to brainstorm, a graphic designer will help you refine your ideas and realize the right design for your needs, ensuring you have the proper foundation before the actual embroidery or printing begins.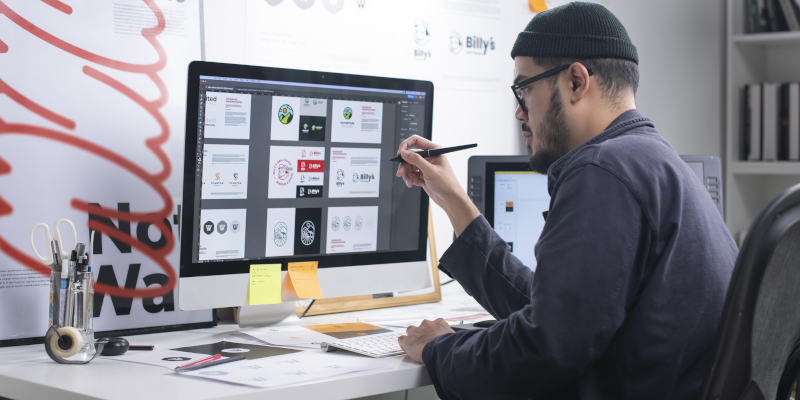 At Artwear Inc., we have an in-house design team comprised of designers who are passionate and skilled at the work we do. Our team has years of experience and will work closely with you to create the logo or other designs you require. From narrowing down a style to choosing fonts and colors, our graphic designers can assist you with many aspects of creating an original design. And once your design is set in stone, we will make it come to life on the products you choose.
After our graphic designers have created the vector art for print or embroidery, we'll begin the rest of the process using our state-of-the-art equipment and high-quality materials. We have the technology to handle projects that many other companies cannot, and we'll make the most of these resources as we produce your custom T-shirts, jackets, hats, bags, patches, blankets, or other apparel and accessories. Whether you intend to place your custom design on a product via embroidery, heat transfer, laser etching, fabric printing, or screen printing, we'll work with attention to detail, ensuring accuracy.
The quality of the work our graphic designers produce is evident, but it's not the only reason to choose us for your needs. We also just provide an exceptional service from start to finish. We listen intently to your ideas and goals before getting started on your designs, and we always work in a timely manner to deliver your order on schedule. Our quick turnaround times set us apart from our competitors, as do our excellent guarantees. In addition, we are here to answer your questions and provide the information you need to ensure your expectations are exceeded when you receive your customized products.
If you are looking for graphic designers who will take the time to understand your needs while creating the designs you want in a timely fashion, we're the team for you. We could not be prouder to serve the Kernersville, North Carolina community and surrounding areas with our unique embroidery and printing services. Turn to our qualified team and learn what a difference it makes to have trained graphic designers to help you create one-of-a-kind products that fit your objectives.
Our graphic designers are ready to tackle your project and wow you with the results, no matter how complex or simple your requests are. Get in touch with our team today. We look forward to assisting you with your graphic design needs soon.
---
At Artwear Inc., our graphic designers help customers throughout North Carolina, including Winston-Salem, Greensboro, Kernersville, Fayetteville, Cary, Wilmington, High Point, Concord, Charlotte, Raleigh, Durham, and Greenville, as well as Charleston and Greer, South Carolina and Richmond, Virginia.