When you need high-quality t-shirt embroidery, simply turn to our team.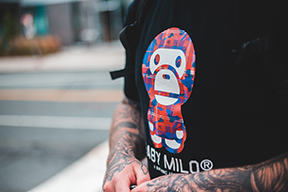 T-shirts started out as a part of military uniforms–specifically, the plain white undershirts that soldiers and sailors would wear underneath the rest of their uniforms. Over time, these shirts gained widespread popularity, and became not just undergarments but true fashion items. However, t-shirts still retain something of their military origins in that they are a great tool for building team spirit and group identity. If you are looking to create some custom t-shirts for your team, family, wedding party, or anything else, our team at Artwear Inc. is here to provide the top-notch services you need. We have the right tools and experience to provide high-quality t-shirt embroidery to all of our clients.
While printing is perhaps the more popular method of customizing t-shirts, you are no doubt familiar with its drawbacks–even high-quality prints will crack and fade over time, and cheaper print jobs are likely to fade significantly after just a few washes. Our t-shirt embroidery services, on the other hand, are the perfect way to keep your shirts looking great in the long term. Because your logo or other images will be stitched into the fabric itself, rather than merely resting on top, it will hold its shape and retain its color no matter how many times you wash the shirt in question.
Our team is proud to serve the Kernersville, North Carolina community, and we want to help you create high-quality custom t-shirts for your team or special event. If you are looking for the right place to get t-shirt embroidery services, just give us a call.
---
At Artwear Inc., we offer t-shirt embroidery services for customers throughout North Carolina, including Winston-Salem, Greensboro, Kernersville, Fayetteville, Cary, Wilmington, High Point, Concord, Charlotte, Raleigh, Durham, and Greenville, as well as Charleston and Greer, South Carolina and Richmond, Virginia.
Similar Services We Offer: