We have the technology, capacity, and the attitude to satisfy all your custom embroidery needs.
When you contact some companies that offer custom embroidery, their idea of customization involves using the same design but making modifications so that it comes out looking differently. At Artwear Inc., we believe that you deserve better than a cookie-cutter solution. When you want to differentiate yourself from the competition, you need a fresh, new design that depicts your logo or other artwork. With our attention to detail and in-house design team, we create everything from monograms to custom patches that will be completely unique.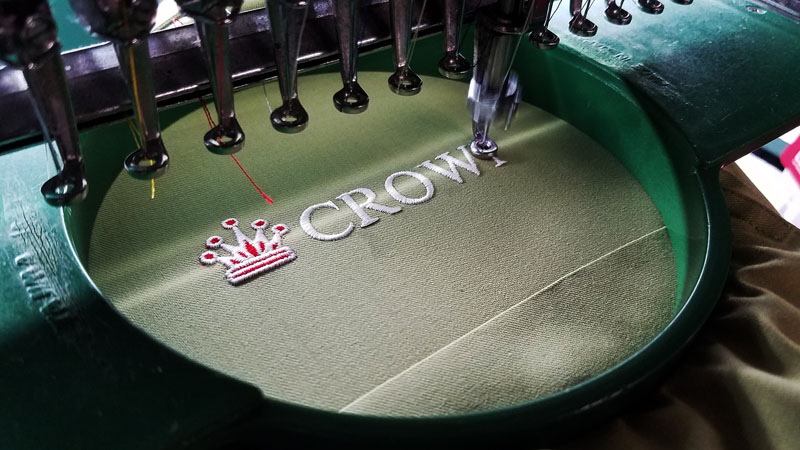 Our team prides itself on the highest quality workmanship and customer service. We have the technology, capacity, and the attitude to satisfy all your custom embroidery needs. We are small enough to flex to your needs and large enough to meet your deadlines and quality standards. We digitize, embroider, print/transfer, package, and drop ship, all from our shop so you can be confident you'll have your order completed and delivered on time.
Our attention to detail also means you can expect low spoilage. We don't forgo quality when delivering fast order completion. Since 1993, our company has always put customer service at the forefront of our goals, and that means we'll go above and beyond to get you the custom embroidery results that you deserve. We even offer and recommend waterproofing the backside of embroidery on waterproof jackets, as well as fireproof embroidery for race suits and fire-retardant uniforms.
If you are in Kernersville, North Carolina and want to work with a custom embroidery professional with creativity and a can-do attitude, we know you'll be happy you chose the team here at Artwear Inc. Call today to learn more.
FAQs About Custom Embroidery
At Artwear Inc., we provide custom embroidery services to help you get the unique, customized items you need to make your business uniforms, event memorabilia, personal items, and more stand out from the crowd. Our team understands that not everyone is familiar with the intricacies of custom embroidery, so below, you'll find answers to a few of the common questions we get asked. Don't see your question listed? Reach out to us directly, and a member of our team would be happy to provide the answers you need!
Hidden
Do you offer in-house design services, or will I need to provide my own design?
Yes, we have a skilled graphic design team on staff who can help you create the template for your custom embroidery design. If you already have a design, just send it over, and we'll get right to work putting it on your items.
Are there any design limitations for small or delicate items?
There are quite a few factors that would impact our ability to embroider an item, and the fabric and size are significant ones. When you reach out to us for a custom embroidery service, we'll be able to make recommendations based on the specific materials you want to be embroidered and the size of your design, since we want to ensure what we produce for you looks great and will last a long time.
What are the advantages of machine embroidery over hand embroidery?
In general, machine embroidery offers more consistent results at a much faster speed, making it ideal for large orders like uniforms or business attire, as well as personal custom pieces. It's also usually easier to handle complex custom embroidery projects on a machine that can handle delicate or intricate details.
---
At Artwear Inc., we offer custom embroidery services for customers throughout North Carolina, including Winston-Salem, Greensboro, Kernersville, Fayetteville, Cary, Wilmington, High Point, Concord, Charlotte, Raleigh, Durham, and Greenville, as well as Charleston and Greer, South Carolina and Richmond, Virginia.
Similar Services We Offer: