Whether you need one or thousands, we can keep your customers happy and looking their best with digital heat transfers.
The heat transfer process has many advantages over screen printing and here at Artwear Inc., we believe you'll love being able to offer your clients an alternative to a short-run custom screen-printing production. Not only are there no screen charges to drive up the price, we are also not limited in the number of colors that we can use when doing a heat transfer project at our shop. We are able to print even the most complex designs, including printing over embroidery for eye-catching effects.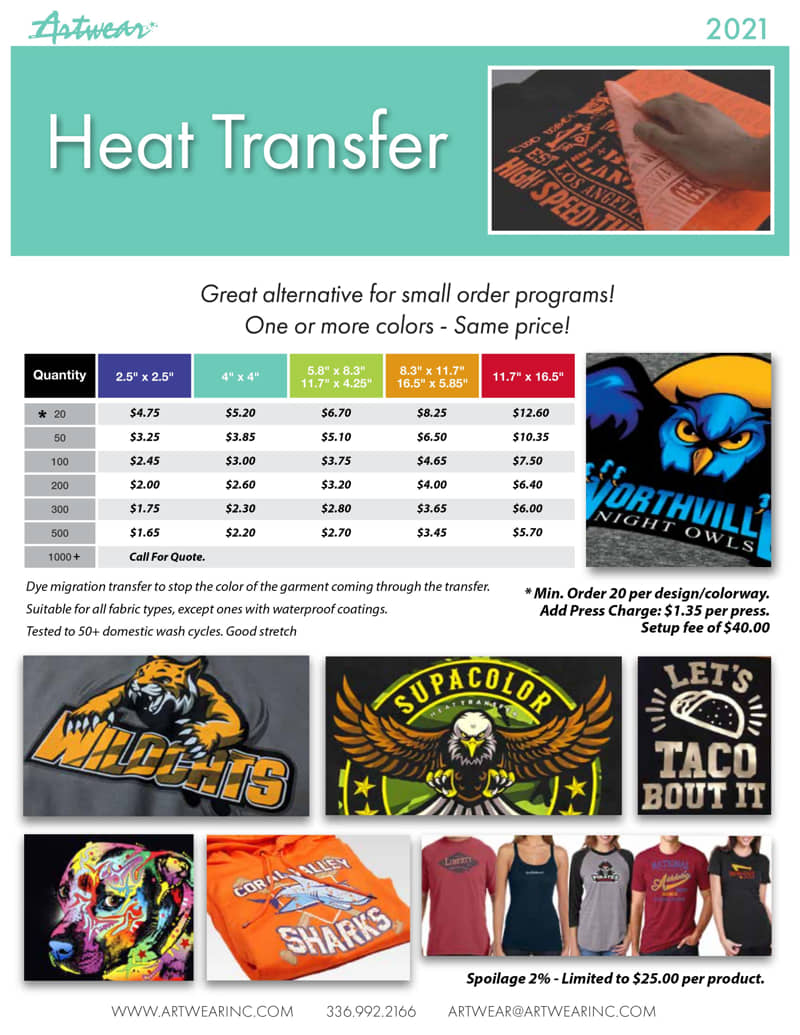 Whether you need one or thousands, we can keep your customers happy and looking their best in Greensboro, North Carolina with quality embroidery and the same quality on digital heat transfers. We can further embellish a project with decals, stickers, 3-D silicone, glitter, and more. The result is a unique display that fits with their branding and sets them apart from their competition.
When choosing heat transfer projects, there are countless things to consider, such as price, delivery, durability, appearance, production, and exceptional customer service. You can count on us to provide you with the personal touch that you and your customers deserve. With experience dating back to 1993, we have verified suitability for heat transfer to various fabric types to learn what works, what doesn't, and the clarity of the details that can be accomplished. Our low-spoilage guarantee and our on-time promise means you'll look like a rock star to your customers. Reach out today to learn more about our graphic design, custom embroidery, laser etching, and heat transfer services.
---
At Artwear Inc., we offer heat transfer services for customers throughout North Carolina, including Winston-Salem, Greensboro, Kernersville, Fayetteville, Cary, Wilmington, High Point, Concord, Charlotte, Raleigh, Durham, and Greenville, as well as Charleston and Greer, South Carolina and Richmond, Virginia.